Whoopi Goldberg updates us on why she's been absent on The View...
On friday via a video update on "The View" Whoopi stated she'd been battling a bad case of pneumonia and nearly died...
Whoopi says, "Yes, I came very, very close to leaving the Earth. Good news, I didn't."
She reported she was septic and the illness was bad with pneumonia in both lungs...
Whoopi also said she's okay and moving around, and she thanked her fans for wishing her well, even the ones who don't really like her...
MORE FROM 'THE VIEW': Full episodes: http://abcn.ws/2tl10qh Twitter: http://twitter.com/theview Facebook: http://facebook.com/TheView Instagram: http://instagram.com/theviewabc
We hope to see her back on "The View" very soon... Get well Whoopi!!!
'Captain Marvel' Smashes the Box Office!
Captain Marvel opened on Friday and is looking to finish the weekend with a box office of $153 million in the US, and Worldwide it's looking to do $455 million.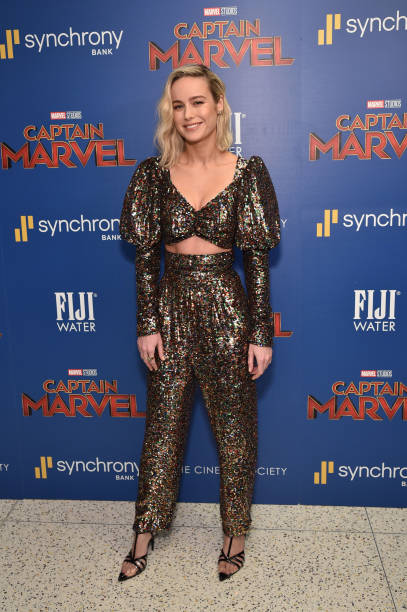 All weekend totals are not in yet but, if Captain Marvel completes the weekend at $153 million or better, it would be the 3rd highest opening for a movie in the month of March!
Previous March movie openings are #1 Beauty and the Beast ($174.8 million) and #2 Batman v Superman ($166 million).
Many want to compare Wonder Woman and Captain Marvel which may not be a fair comparison...
Wonder Woman, a DC Comic movie, opened in the Summer and had competition from Pirates of the Caribbean and Guardians of the Galaxy (the second one).
Wonder Woman's opening weekend total was $103 million.
Marvel also has a deeper and more loyal fan base than DC Comics so there is a built audience and loyalty to the brand.
We love the fact that a Female superhero/lead has made such a mark in the Box Office! #GirlPower
Did YU see Captain Marvel?
What did you think of it?
Jennifer Lopez And A-Rod Are Engaged!
Jennifer Lopez is OFFICIALLY off the market once again gentlemen!
The couple posted a photo of Jennifer's hand with a HUGE engagement ring.
A-Rod captioned his photo with "she said yes"...
1m Likes, 51.4k Comments - Alex Rodriguez (@arod) on Instagram: "she said yes ♥️"
While we do not know the EXACT details about the ring, jewelers have weighed in estimating that the ring is anywhere from 10 to 20 carats and costs around $5 million.
He proposed to her while they were on vacation in Bakers Bay, Bahamas...
3.7m Likes, 28.8k Comments - Jennifer Lopez (@jlo) on Instagram: "#beachbums ????????????"
The couple has been dating for a little more than 2 years.
They have a beautifully blended family with four kids total (J-Lo has twins and A-rod has two daughters from previous relationships) with ages ranging from 11-14 years old.
Jennifer Lopez has been engaged a total of five times with three resulting in marriage: Ojani Noa (1997), Cris Judd (2001) and Marc Anthony (2004).
Do you think A-Rod is the RIGHT one for Jennifer Lopez?