On April 20, B.G.'s fourth studio album, Chopper City in the Ghetto, which features the classic "Bling, Bling" turns 20.
"Bling Bling" was released as a single on March 30, 1999, and 20 years later people are still using the slang phrase to describe shiny elaborate jewelry. It was the lead single on B.G.'s Chopper City in the Ghetto album. The infectious track charted at number 36 on Billboard's Hot 100 and at number 13 on Billboard's Hot R&B/Hip-Hop Singles & Tracks. The song's performance on the chart is impressive but pales in comparison to how "Bling Bling" has left its imprint on hip-hop, urban, and pop culture.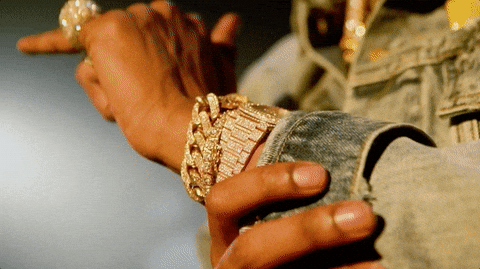 "It's in the dictionary, man that sh** is crazy. For a ni**a like me who comes from nothing, from the hood, and I be going through the airports and sh** sometimes… as a matter of fact, a flight attendant the other day said, 'I like your bling bling' and I just started laughin' because sh** be funny, she ain't know who I was and I wasn't gonna tell her who I was, I don't even wanna be trippin' like that, but sh** is crazy," B.G. told Rap Reviews in 2006.
"Even when I was creating that record and others, I always knew they were going to be big songs. I always knew these songs were going to be big songs and big to the South. What I mean is these songs have stood the test of time," Mannie Fresh said about "Bling Bling" during an interview with XXL, last month.
"I'm super blessed that my songs are still being played and are still in rotation 20 years later. I'm from the generation of my songs play 20 years later. That's incredible to me. I feel super blessed."
Below take a look at 7 ways that "Bling, Bling" is still etched into the culture.
1.As mentioned above, "Bling" is now in the dictionary.
Bling, a noun, is flashy jewelry worn especially as an indication of wealth or status, according to Merriam Webster. It is also the flaunting of such possessions or the flashy lifestyle associated with it, according to Dictionary.com.
2. Cardi B's nail tech, Jenny, refers to herself as the "Queen of Bling."
Besides being known for swiftly catapulting to fame, unapologetically speaking her mind, and for her popular catchphrase "Okurrr," Cardi B is known for her long, pointy, and blinged out nails. The Bronx rapper's adorned nails can be credited to her longtime nail tech, Jenny, who refers to herself as the "Queen of Bling."
3. A boutique in Metro Detroit is named "Bling Bling."
There's a boutique in Metro Detroit (Oak Park) named Bling Bling where you can find blinged out clothes, shoes, purses, jewelry, and pretty much blinged out any and everything.
4. HipHopBling.com is a thing. 
Gold, diamonds, chains, pendants, earrings, "grillz," watches, rings, and bracelets can be found at hiphopbling.com. The website that specifically caters to the hip-hop community has been in business for over 15 years offering "the best in value in quality made hip hop jewelry such as Tennis chains, Hip Hop Watches, Grillz, Micro Pave Rings, and more."
5. GQ magazine has a web series centered around bling called "On the Rocks."
The series has featured everyone from Gucci Mane to Slick Rick to Rae Sremmurd to Saweetie. Artists sit down with GQ exclusively alongside their favorite blinged-out pieces of jewelry and explain why said jewelry is their favorite. According to most rappers who have been guests on the series, Gucci Mane takes the cake for having the best bling.
6. Author Minya Oh penned Bling Bling: Hip Hop's Crown Jewels.
The book that features an introduction by Ludacris takes "a fascinating look in words and pictures at the stars of hip-hop and their fabulous jewelry." In Bling Bling, the writer "takes readers deep inside this star-studded world, exploring the wild appetite for flashy adornment that typifies the contemporary rap scene." Run DMC, Slick Rick, Ludacris, and Diddy are just a few of the rap icons who show and tell the stories behind their most blinged out pieces.
7. There's an upscale night club in Madrid, Spain called Bling Bling.
Bling Bling Madrid "lands in the capital to change the Madrid night, is synonymous with elegance and exclusivity. Featuring the most stunning interior in Madrid, Bling Bling will have you partying the night away in luxury." The club that's located in the heart of Madrid, downtown plays a mix of EDM, commercial house, and hip-hop music. According to Disco Tech, the lines are typically long and a strict dress code is enforced, but if you are willing to dress the part and spend anywhere between $12-$18 euros ($15-$20 USD) for a cocktail, you can party from 12 pm to 6 am local time.
Glennisha Morgan is a Detroit-bred multimedia journalist and writer. She writes about intersectionality, hip-hop, pop culture, queer issues, race, feminism, and her truth. Follow her on Twitter.
Glennisha Morgan is a Detroit-bred multimedia journalist and writer. She writes about intersectionality, hip-hop, pop culture, queer issues, race, feminism, and her truth. Follow her on Twitter @GlennishaMorgan.
Sign me up for the 105.1 the Bounce email newsletter!
Stay locked in with everything 105.1 the BOUNCE and become a BOUNCE VIP! VIP members can win prizes, concert tickets & get updates on everything Detroit!
By clicking "Subscribe" I agree to the website's terms of Service and Privacy Policy. I understand I can unsubscribe at any time.