Kevin Hart Back On The Grind!
After suffering a terrible car accident that left him with a fractured spine, the prolific comedian is back to work!
The comedian had been in recovery since September 1st, following the accident, undergoing grueling physical therapy before eventually returning to his home in Los Angeles.
"He really cherishes the fact that he's alive, and wants to make the most of it in every respect. The crash had a huge impact on him," said a source close to Hart.
Kevin is currently hard at work on the marketing campaign for the "Jumanji" sequel, making the rounds with co-stars Dwayne "The Rock" Johnson, Danny DeVito and Danny Glover.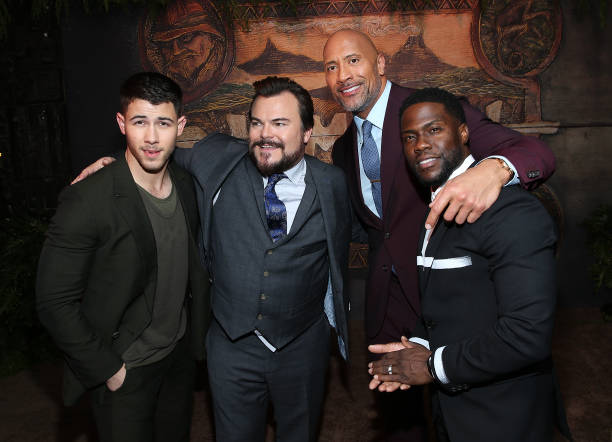 What do YOU think?
Should Kevin Hart be back to work so soon, or should he lay low and do a little more recovery?
Tyler Perry Makes History With Movie Studio, Creates Safe Space
Tyler Perry's studio complex in Atlanta will feature a space for displaced LGBTQ youth, homeless women and victims of sex trafficking.
Last week, Perry became the first African-American to own their own movie studio after the grand opening of the Tyler Perry Studios in Atlanta.
Perry spoke to CBS's Gayle Kim recently and explained the importance of building and owning the studio, and why his films speak a specific "language" to a specific audience…
Check out Tyler Perry's Interview With Gayle Kim…
Regarding the space reserved for displaced LGBTQ youth, homeless women and victims of sex trafficking, Perry said this, "[It] is building a compound for trafficked women, girls, homeless women, LGBTQ youth who are put out or displaced. Having a compound that is a beautiful place right here somewhere on this 330 acres, where they're trained in the business and they become self-sufficient, they live in nice apartments, there's day care, there's all of these wonderful things that allows them to reenter society and then pay it forward again. That's what I hope to do soon."
How great is that?!
Perry has always been one to uplift and inspire! Check out his BET Awards Speech…
Ice-T Has His Doubts About "New Jack City" Reboot
Ice-T, who had a starring role in the original 1991 "New Jack City" doesn't see how a reboot of the film will work in 2019.
Ice, who turned down any involvement in the upcoming reboot says he has a few reservations with the film and how it could work in today's environment.
The concerns being that the role of drug dealer, Nino Brown, as played by Wesley Snipes couldn't be recreated in a just due manner, since Snipe's portrayal has become something of cult status.
Another concern is that the original film took place in the crack riddled 1980s, which remains to this day a very poignant and topical time in American history.
Ice-T referenced the remake of "Superfly", which he said, "sucked".
What do YOU think? Do we really need a "New Jack City" reboot?